10.75" Carbon Steel Skillet
$174.95
Description
Carbon steel pans are likely the most simple and effective cookware ever created. Formed from a sheet of smooth steel, these original non-stick pans are up for any task. While carbon steel is commonly found in commercial kitchens and homes around the world, it has been overlooked in America for too long. If you have never used carbon steel now is the time to give it a try. Carbon steel is very similar to cast iron in its ability to retain heat, making it perfect for searing. The surface is smoother than cast iron and easier to season. If you are looking to upgrade from disposable aluminum or stainless pans, carbon steel is the perfect option. Our skillets are built by hand to last a lifetime and come from the factory fully seasoned with flax seed oil and ready to use. You can look, but you won't find a skillet like this anywhere else. Made in Michigan. Lifetime warranty.
Specifications
Cooking Surface Size: 7.5"
Overall Length: 16.75"
Top Rim Diameter: 10.5"
Inside Wall Height: 1.75"
Wall Thickness: 3mm
Weight: 4.4lbs
Customer Reviews
Well made
Worth the price, eggs don't stick, works great, I cook on wood stove , I always warm my cast iron before putting food in, I follow the same with this pan, clean up I just wipe it out
04/09/2021
Joe K.

United States
Perfect
Love it. The immediate heat desperation thru the pan. Wife loves it too. She's browning meats with ease, I made delicious scrambled eggs in it the other day. Cleans up easily. I'm looking forward to learning to work with it in coming months.
02/12/2021
Jason D.

United States
Fantastic!
The 10.75" carbon steel pan is very nice. The handle is perfect. It fits the hand nicely and stays cool during use. The pan heats quickly and evenly. The sides are sloped at just the right angle. If only there was a 12-13" option. I have to feed a family of four and this pan is too small.
12/23/2020
Anonymous

United States
Great Skillet
While I own some cast iron skillets and pans this is the first blue steel pan I've owned. It has a great feel to it, somewhere in between the cast iron and my cheap pans in terms of weight. The design is great, the handle has a really good "feel" to it, very ergonomic in design. I recently made detroit style pizza with it and turned out incredible.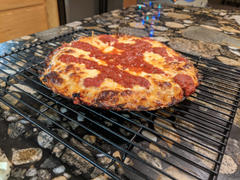 01/25/2021
Marquette Castings
Your Pizza looks amazing! We hope you are enjoying the skillet!
11/01/2020
jeff p.

United States
Fantastic Pan
Every kitchen should have this pan!!! I decided to purchase from Marquette Castings because their pans are thicker than most carbon steel pans and are hand cast by a small company in Michigan. When I opened the box and took out my new pan and saw the quality and workmanship I knew that I had made the right choice. Using this pan I get the best of both worlds. It heats quicker than my cast iron and is more non stick than my stainless steel. The thicker walls of the Marquette Castings pan will also give you the heat retention of a cast iron pan. I did have a small issue with my order and Ellie in customer service went above and beyond to help me which is all the more reason I decided to purchase from a smaller American company.