Dutch Oven
---
Versatile
Soup, meat, pasta, bread - you name it and this Dutch oven can make it.
Durable
Made from cast iron and finished with three layers of enamel, this non-stick, non-toxic Dutch oven is your go-to kitchen staple.
Description

Its all about the iron – Cast iron's heat retention is legendary and its what makes all the difference between the cast iron Dutch oven and all other "pots".  Iron provides even heat and is slower to heat than other materials, plus it holds heat for longer. This means less burned food and better results for dishes with longer simmering times on the stove top. Heat retention means the Dutch oven can join you at the table as a serving piece or travel to a friend's house while keeping food warm (check out our Dutch oven travel bag).

 We designed and crafted ours after testing 12 popular brands and picked the best elements of each design. Here's what we focused on:

Large loop handles – easier to grab with oven mitts
Wider diameter and lower walls – more cooking area on the bottom and easier access
Light colored interior – easier to monitor food inside
Premium metal lid pull – no need to skimp on the details.
Ridiculously durable enamel – we want your Dutch oven to be functional and durable for years to come.
Specs

Interior capacity: 6 Quarts

Overall height with lid: 6 ½"

Overall height with lid in storage position: 5"

Pot height: 4 5/8"

Exterior diameter: 11 1/16"

Exterior diameter with handles: 13 5/8"

Interior diameter (top): 10 5/8"

Interior diameter (bottom): 9 ¼"

Interior height: 4 3/8"

Total weight: 13.57 LBS

Box dimensions: 16" x 16" x 6"

Cast in Hebei China
Care & Use

Hand wash only with soap and warm water.
Wooden or plastic utensils recommended (no metal).
Allow the pot and lid to fully dry before storing it away. Lightly wiping the rim of the pot with oil will prevent rust.
If staining occurs, use baking soda and boiling water to make a paste. Let the paste soak and then gently scrub with a soft sponge.
The Difference
Everyone needs a Dutch Oven
It's a one stop shop on your way to making delicious meals your whole family will enjoy.
No limits on cooking
With the Dutch oven, the sky is the limit when it comes to cooking. Brown up meat, bake bread, simmer soups - this pot does it all.
Unmatched Durability
We have tested our Dutch oven against some of the premium brands and ours always comes out on top.
Customer Reviews
Just as nicely made as my Le Creuset.
Wonderful quality and service. These are my new favorite for cast iron enamel.
05/13/2022
Lilia E.

United States
Pot is beautiful but the lid came with pin size holes
I ordered the matte white and the item came well packaged with enough foam for protection. The pot itself came in very good condition however, the enameling on the lid looks so thin. You can literally see the cast iron through the white enamel and there are multiple pin sized holes on the letters. Because there's not enough enamel coating on the lid, it looks mostly grey with a faded white coating. I give the pot 5 stars but the lid gets a 1 star. The first one I ordered was great so I decided to purchase another with no hesitation. I'm not satisfied with the second because I am not located in the US. I pay a shipping company to ship to the Caribbean. The price of the dutch oven plus the cost of shipping to my country is roughly $200 USD which is over $500 in my currency. It's unfortunate that I spent so much for a product and it didn't come in the condition I expected. I sure hope that these pin sized holes doesn't cause huge chunks to chip off overtime.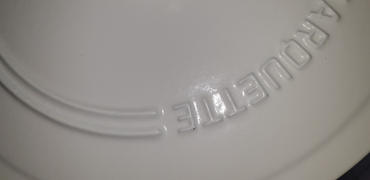 05/13/2022
Marquette Castings
Hey, Lilia! I'm sorry to hear about the pinholes in your Dutch Oven lid! Pinholes are super common with enameled cast iron products, and they shouldn't chip over time or affect your cooking at all. I've reached out to you to make sure that your lid isn't missing any enamel. Your Dutch Oven is covered under a lifetime warranty so if you ever do run into trouble with the pinholes (or anything else), please don't hesitate to reach out to Support@MarquetteCastings.com and we will take care of you! Kind regards, Sarah
04/25/2022
Anonymous

United States
Such a treat!
It's been great. First time I used it was for a pasta dish and it was way quicker and way more delish when using my brand new Dutch over. Love it!
04/04/2022
Leah

St. Lucia
Beautiful!
After weeks of research trying to find the best brands in dutch ovens, I wasn't too impressed by what I came across until I found out about Marquette Castings. After reading the product reviews and watching their vedios on how their products are made, I decided to go with Marquette and purchased the 4 qt iron red dutch oven. It was so beautiful that I purchased the 4 qt matte white yesterday! I haven't cooked with it yet but I have full confidence that it will do a good job and hold up well for years to come! They also have very good customer service, thank you Marquette!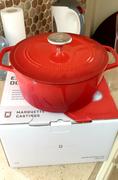 01/21/2022
Polly

United States
Beautiful pot
I just bought it. I didn't have a chance to use it yet but it looks nice and it's beautiful. I have French Original Dutch oven and I am very happy with it but I needed the smaller one to bake bread.