News & Updates
We have our Dutch Oven Recipe Contest Winners!
We asked and you delivered! To kick-off the the start of Fall, we asked our followers, fans and general dutch oven enthusiasts to share their favorite and original dutch oven recipe. We were overwhelmed with creative and tasty creations! We had many great submissions but ultimately had to narrow down a grand prize winner and two-runner up winners based on votes, taste and creativity.
Marquette Castings Grand Prize Winner:
Erik submitted a Dutch Oven Chili recipe perfect for Fall (and apparently loved by many with 466 votes!). Check out his recipe below!
With so many amazing recipes, we couldn't just pick one! We also selected 2 runner-up winners who were awarded each with a 6 QT Dutch Oven.
Runner-ups:
Nancy E. gave us her scrumptious New England Corned Beef Recipe which garnered in 386 votes.
Michael Z. shared his one-of-a-kind Woodman's Stew which impressed us with creativity.
To see all the enteries check out the page here .
Get your Dutch Ovens ready...you are going to want to try these out! (Don't have a Dutch Oven? Check out our enameled cast iron dutch ovens here .)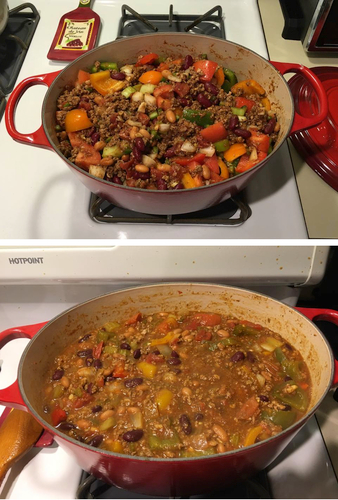 9/14/2017 Production Update
Our 8" and 10" skillets have arrived! The good news is that for the 8" skillets with this shipment we will be able to ship to all our Indiegogo backers, international backers (both Kickstarter and Indiegogo) as well as pre-orders on our website (yes that's everyone). For the 10" skillets, not enough passed our final QA tests to be able to fulfill all pre-orders. We can say that the vast majority of Indiegogo backers should receive the 10" skillet. Shipping is prioritized by order date. More of the 10" skillets are in production right now, so we hope to have more soon. The balance of the 12" skillets are expected to arrive in the next few weeks – we expect to have enough to cover all outstanding pre-orders.
For the 10.5" Skillet – we are still in the middle of the 60 unit test production run. I have been frustrated with the slow progress of our partner foundry. If I could I would fire up the furnace and pour them myself. We are very close to being ready for production, but these last details keep adding delays. We are focused on delivering an amazing product, so we need to get through all these steps. I know updates in the past have been a little vague as to the issues we are working through, so I figured I would discuss a few.
Gating the skillets – the gates are where the molten metal enters the skillet mold. The placement, size and orientation of these gates are crucial to the flow of material into mold and also effect what happens as the molten metal starts to freeze. Since the metal shrinks slightly, it needs to stay molten at the gates to be able to feed thicker areas as they cool. We have done several experiments with the gate locations. This is one element we may continue to adjust to lower the scrap rate

Assembly onto the tree – the wax patterns are assembled onto a wax post so that several skillets can go through shell building (a time-consuming process) and casting as one piece. The only way to cost effectively cast an iron skillet with investment casting is to have as many skillets on one tree as possible. The location of the gates also dictates how the skillets can be placed on the tree.

Removing the wax pattern from the tooling - On some of the first samples we created from the aluminum tooling, we noticed that the surface finish was not what it should be. We believe this was due to the lubricant that was being applied to the tooling to aid in releasing the wax templates after they were injected. The lubricant is needed as the wax templates for the skillets are very thin. The lubricant was causing issues with the surface during the shell building process. The trick about investment casting is that every single step of the process can influence the final part quality. It took some time to find the right solvent that would remove the oil and then dry clean with no other residue – it turns out that Citrus is a great choice.

The cooling process – one of the biggest tricks is setting up the castings correctly so that they can cool in a way that won't deform the parts or create structural issues. On some initial tests, we found that the large mass of iron at the end of the handle was problematic because the skillet wall and fork of the handle (both very thin) would cool and freeze more quickly, and cut off the handle from being fed more iron as it cooled. This caused non-filled sections and weakness in the handle connection. We did adjust our design from the first prototypes to remove material from the handle (that's why its carved out on the bottom), but we may also have to use other measures to adjust how the skillets are cooling. This is something we are also still working on.
We greatly appreciate everyone's patience with this process – it is definitely not easy but I think the results will be well worth the effort. We are working on our 8.5" skillet and 13" skillet in tandem, so hopefully they won't be too far behind. I very much hope to have more good news to share in the next week or two.
Cheers,
Eric
8/31/2017 Production Update
During the past few weeks we have made great progress on a number of products, Here's an update:
8" & 10" skillets and leather handle covers are expected to be in our warehouse next week (first week of September). After final inspection they will go to the fulfilment centers for distribution to customers. We should have enough in this production run to cover all outstanding pre-orders! Backers in Canada and overseas will have to wait slightly longer as we need to move the skillets to fulfilment centers in the UK (by boat).
The 12" skillets are about 30 days behind the 8s and 10's. They got held up during the seasoning process so we are expecting them in around the end of September. Again-should have enough to cover all outstanding pre-orders.
Due to our warehousing and fulfilment process, All products ship separately, so please don't be alarmed if you receive a package and it doesn't have everything you ordered. We have records of everyone's orders and will make sure everything gets shipped out.
For the 10.5" Michigan made skillet, we are amid a test production run. During prior tests, we found that for proper surface finish, we needed to remove all the oil from the wax templates before the shell building. The wax injector die is sprayed with a light oil so that the wax template can be removed from the tooling (it's very thin!). The extra oil was causing problems with the ceramic shell that was showing through to the final casting. Each test run takes around 2-3 weeks since there so many steps in the casting process. We will have an update as soon as this test run is complete.
For the 8.5" Michigan made skillet, tooling is in production and should be done soon. We can use our learnings from our work with the 10.5" skillet to hopefully move into production faster with the 8.5"
We have a new strategy for the 13" Michigan made skillet. We have decided it will require a custom-made tree so we can make more skillets at once. Due to the size of this casting it is quite a challenge. We will have pics of the latest prototypes as soon as they are available
We are making very good progress with the Carbon Steel skillet. The handles are in production, we are nearly ready to start production on the pan bodies and we are working on getting a rivet machine for the final assembly. We just opened these skillets up for pre-order !
Our 4qt Dutch ovens should be ready in about 45 days (mid-October) with grill pans arriving around the end of October.
For the latest pictures of what we are up to, please follow us on instagram
Cheers,
Eric
3/21/2017 Production Update
To our Kickstarter and Indiegogo backers,
We have had a few questions come in about a few items we didn't address in the update. Here's all the details! We are getting rolling again on the 10.5" skillet after a few delays. Our first prototype had a few problems with the casting that prompted us to make some adjustments to the design. These included thickening the profile on the handle connection, making the filet between the pan bottom and walls bigger, and removing material from the underside of the handle. These changes were made were to improve the casting quality, not for aesthetic reasons – the look and feel remained almost exactly the same. To test our revised model we had a pattern created from a 3d print. In this process we can send out a 3d model for printing and get a print that will replicate the wax pattern that the mold will create – this is a really cool way to test-cast designs before the tooling is created. It is much better to have all these details worked out before tooling is created rather than try to adjust the tooling after production has started. Our partner factory was backed up and we got a little delayed during this process. To make matters worse, the ceramic shell created from the latest 3d print fell over in the de-waxing oven and completely ruined the mold. The 2nd try on this pattern should be arriving at the factory today. I am hopeful that we won't need any adjustments to the design once we can see this test-cast. With any luck we can get started on making the tooling for the wax patterns some time next week. This process will take a little while. These molds are created from 2 blocks of aluminum that are a little bigger than the skillet and about 4 inches thick. Both sides are milled creating a cavity that is the exact replica of our design. Our rough estimate for mold development is 4-6 weeks. As soon as that is ready we will be able to start cranking out the world's best cast iron skillet – just a reminder that no one has ever made a cast iron skillet with this method before. Thank you for your pre-orders – without them we wouldn't be able to create the tooling for this skillet.
Cheers,
Eric