Cast Iron Skillets
---
Light Iron
MC skillets are among the lightest ever cast.
Perfect Finish
Extremely smooth, yet holds seasoning very well.
Description

Cast iron has been a staple in cookware for thousands of years – it just so happens that you are looking at possibly the finest cast iron cookware ever made. This will become your favorite pan. Our skillets are cast with thinner wall sections, so they are extremely light yet retain cast iron's legendary searing abilities.  Our cast iron is made in Michigan with an ultra-precise casting process never-before used for cast iron cookware. No secrets here – we make the best cast iron cookware by trying harder than everyone else. Find out how cast iron can perform with a little bit of love and a lot of labor!

The Shape – Our casting method allows us to make shapes and thicknesses never before possible with cast ion cookware. The increasing thickness at the end of the handle keeps it from getting hot – even when the pan is at searing temps. Thinner wall sections remove weight where it is not necessary and make the pan easier to handle.

The Finish – Ridiculously smooth and ready to use right out of the box. Smooth iron is easier to clean and maintain.

Two Sizes - Our skillets are cast in two different sizes, the 10.5" and the 13"

 

 
Specs

10.5" SPECIFICATIONS

Cooking Surface Size: 9.25"
Overall Length: 17"
Top Rim Diameter: 10.5"
Inside Wall Height: 1.5"
Wall Thickness: 3-4mm
Weight: 4.1lbs

13" SPECIFICATIONS

Cooking Surface Size: 11.25"
Overall Length: 15.25"
Top Rim Diameter: 13"
Inside Wall Height: 1.75"
Wall Thickness: 3-4mm
Weight: 7.6lbs
Care & Use

Impossible to destroy, yet requires lots of love.

-Keep lightly oiled

-Clean off baked on food before adding more oil, try very fine steel wool

-Always dry after cleaning and keep it away from the dishwasher
Why
We make the world's finest cast iron skillets for people who truly enjoy cooking and want the best tool for the job so that they can get the most enjoyment out of their time in the kitchen.
The Marquette Difference
Unique Casting Method
Its a lot of work, but we think its worth it
Easier Maintenance
The smoother surface makes seasoning easier to maintain than other cast iron.

Light Iron
Our unique casting methods allows us to cast lighter skillets than anyone else making handling and cleaning easier.
a handle that doesn't get hot
Stay Cool
By designing the handle that is thicker at the end, we can reduce heat transfer into the handle. Made possible by our casting method.
Customer Reviews
02/11/2023
Matthew

United States
13.5" skillet
I have tried everything from ancient Grisealss, new Finex, Butterpat, and of course Lodge. The 13.5" Marquette skillet is the finest piece if cast iron I own. Had it for over 5 years now. I ordered a large Butterpat skillet, beautiful finish but the casting was slightly warped. I spoke with their service department and it seems they have that issue when casting larger skillets. They were very nice and accepted the return. The Marquette casting method appears to be superior. I may be wrong but I think they cast in a centrifuge. This reduces the chance of voids and cracks. And the result is a very flat skillet, that does not rock on the bottom surface of the skillet or the slightly raised ring around the edge of the bottom. The only issue I have is that this skillet is much larger than the electric eye on my stove. I knew this when i bought it so no worries. I heat the pan in the oven for 10 minutes on 350-400. I also only season with a very very thin coat of flaxseed oil which I find, when done correctly is very durable (425deg for one hour in the oven to polymerize the flax oil). Remember that even though your pan is seasoned, you still need to wet the pan with olive oil and a little pat of butter for the best nonstick performance when you cook with it. The temperature you cook at will make or break the experience with any cookware. I suggest using medium heat, just enough to make a pat of butter slightly sizzle but not burn quickly. Of course turn the heat up to sear but most cooking in a skillet is done between 270-350f surface temp. Hope you all love this skillet as much as my family and I do. An heirloom for sure.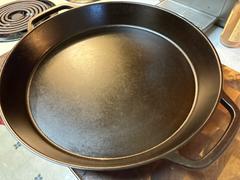 06/10/2022
Robert M.

United States
Great skillet
Love the skillet it sears like I want it and is light compared to my wife's inherited stuff. I am very happy I ordered one before they were being manufactured as I hope it helped the company get going. My wife laughed at me buying years before made but I get a kick out of these when the finished product is a great one. Thanks
04/02/2022
Anonymous

United States
Quality does not match price
For the most expensive cast iron I own, it has the most obvious careless machining marks. Cooks great but just should look perfect for the price.
04/04/2022
Marquette Castings
Hey there! Thank you so much for your review. I'm sorry to hear about the trouble with your 10.5 Skillet! With cast iron, every skillet is going to be unique and may have slight imperfections. With that said, we do put our skillets through quality control to make sure that they are in perfect cooking condition. We cover our products with a lifetime warranty and if you ever run into any trouble, we'll take care of you! I'll be reaching out to you directly to make sure that there's nothing wrong with your skillet. We are always happy to help at Support@MarquetteCastings.com. Kind regards, Sarah
03/25/2022
Robert P.

United States
Super Skillet
This skillet is very nice. I decided I like the 13" ones a lot better so I ordered a second 13" one. I probably won't use the 10.5 very much but it will get some use. I wish you d make a 6qrt or 12qrt Dutch oven
03/29/2022
Marquette Castings
Hello, Robert! Thanks so much for your review. I'm so glad to hear that you're loving the No. 13 Cast Iron Skillet - your steak looks delicious! I just wanted to respond here to let you know that we do make a 6qt. Dutch Oven, here's a link: https://www.marquettecastings.com/collections/dutch-ovens/products/6qt-dutch-oven?variant=30519232781 We are always happy to help at Support@MarquetteCastings.com, please don't hesitate to reach out! Kind regards, Sarah
02/13/2022
Jason N.

United States
10.5 skillet
Seems very nice. Probably the lightest cast iron skillet in my collection. I wish their enameled line was made in America also.