11" Enameled Grill Pan
$89.95
Description

User and Care
Grill in the kitchen year-round. The Marquette Castings 11" square grill pan is designed to improve upon other grill pan designs. The larger than average size makes preparing food for several people easier. The tall grill lines, leave perfect grill marks on your food and keep it out of any rendered fat that may cook off. The INCLUDED lid interlocks perfectly with the pan to improve heat transfer to the lid while pre-heating the pan. The lid can also be pre-heated on its own burner to more effectively grill from both sides at the same time. The main body of the pan was designed to be lighter and easier to handle while maximizing the cooking surfaces. The looped helper handle works well with an oven mitt. The semi-gloss enamel interior makes cleanup easy.
Wash and dry before first use
For best results, Cookware should be pre-heated before adding food
Temperature safe to 1,000 degrees
Suitable for use on outdoor grills and smokers
Not recommended for cooking on open fires (like a camp fire – your gas range is fine!)
To Avoid thermal shock, allow to cool a little before cleaning
These things get hot – always use oven mitts to grip handles
Never leave cast iron cookware soaking in water for more than a few hours or put in the dishwasher
The Enamel is very hard, but it's best not to bang or bump it too hard – let the kids use the other pots for a drum set
Do not clean with any harsh abrasives, this may damage the surface. If the rough side of the sponge isn't enough, try a nylon scraper or follow the steps below
To remove light stains let the pan soak a few hours with light bleach solution (3 tablespoons of bleach per 1 qt of water)
For baked-on food, Boil 2 cups of water with 4 tablespoons of baking soda. Boil for a few minutes, then scrap it off
Some metal utensils can mark the inside, we suggest using other types or testing out what you have before you go whipping those sweet potatoes.
Any Questions? Please call 1-800-647-0081 and we would be happy to chat
 
Customer Reviews
07/07/2021
Mary J.

United States
FRACTURED
Sydney is kindly shipping a replacement…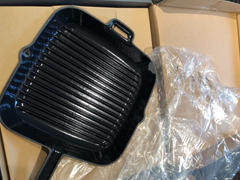 07/08/2021
Marquette Castings
Hello, Mary Jeanne! Thank you for the feedback. I am so sorry that your Enameled Grill Pan arrived in that condition! I'm happy to hear that Sydney is taking care of you and sending out a replacement. Please don't ever hesitate to reach out to us at Support@Marquettecastings.com if you need any help or have any questions. Kind regards, Sarah
03/14/2021
Terry S.

United States
Amazing best steaks and more
I love it .. It's my first pan I can say I'm in love with its a 10 star product. There's so many uses for this pan.. Cleans up nicely
02/19/2021
Anonymous

United States
I need to figure out how long to heat the lid to do two-sided grilling and still not get the pan too hot. Besides that the performance was outstanding.
01/16/2021
Anonymous

United States
Beautiful pan!
This is a well made and beautiful piece of cookware. Heirloom quality! My only criticism is the ergonomics of the handle, it could be a little more of a traditional cast iron style. Overall I am very pleased with this purchase and highly recommend the product.
01/14/2021
John J.
Little Falls, New Jersey, United States
Nice Piece
I would have liked the handle to be a little wider but otherwise a beautiful pan.